<![if !vml]>
<![endif]>
<![if !vml]>

<![endif]>  NICODOM IR Inorganics- Volume IV - Commercial Materials and Analytical Agents
<![if !supportEmptyParas]> <![endif]>
Volume 4 of the infrared spectral library book "NICODOM IR Inorganics" consists of 209 FTIR spectra (spectral range 4000-400cm-1). The spectra are shown in transmittance scale (%T). It is separated in two parts.
FTIR spectra of 117 organic indicators and agents as a representative selection from over 200 available compounds used for inorganic analysis were collected. For most compounds their type (like analytical agent, indicator acid-base, adsorption, fluorescence, mercurometric, metallochromic, redox) commonly used name (like Xylenol Orange), chemical formula, color, color change in solution, and basic application (e.g. Zn titration) are included.
Further 92 spectra of inorganic commercial materials, like cements, ceramics, clay, glass, porcelain, raw materials for ceramics, tiles etc. are presented in this volume. Chemical composition of those materials is mostly based on silicates or aluminosilicates. The presented chemical composition is only approximate. For most samples their type, name with comment about their qualities, approximate chemical composition and origin is available.
<![if !vml]>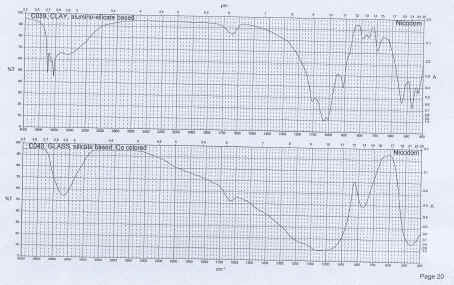 <![endif]>
This library is available as printed book or scanned book (*.pdf file).
To download the list of spectra from this library, to download a free demo library compatible with your software, to check the format compatibility as well as for pricelist, ordering info and information about all NICODOM IR/NIR Libraries and other NICODOM products please visit our webpage.
<![if !supportEmptyParas]> <![endif]>
Download list of spectra for this library.
<![if !vml]>

<![endif]>
NICODOM IR Inorganics, 1803 IR spectra of inorganics
Copyright © NICODOM 2006
NICODOM Ltd., Hlavni 2727, CZ-14100 Praha 4, Czech Republic, EU
Tel: +420-281914970, Fax: +420-281914971
<![if !supportEmptyParas]> <![endif]>
<![if !supportEmptyParas]> <![endif]>
<![if !supportEmptyParas]> <![endif]>